The Mile High Mortgage & Real Estate Report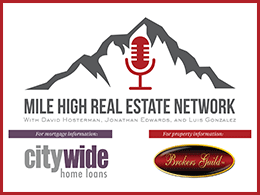 David Hosterman began working as a loan officer with Castle & Cooke Mortgage in 2008 and became a Branch Manager in 2015. His previous experience as a sales manager and loan officer for American Bank and Ace Mortgage Funding over the previous decade prepared him for offering a level of customer service that he believes is the key to a successful mortgage experience. Communication is essential every step of the way when working with David. From helping clients get connected with trusted real estate agents to making pre-qualification and loan closing as straightforward as possible, David is continually assessing what is right for his clients and then following through.
David touts the strong support system of underwriters and processors at Castle & Cooke Mortgage as the foundation for exceptional client service. Making the loan process as smooth as possible requires advanced technology and underwriting capabilities that enable a loan to be closed and funded quickly, often within 24 hours after the final submission of conditions. This is important in a fast-paced real estate market like Colorado and gives real estate agents and home buyers a competitive edge.
Show Links: